Events
2011
The Torah Center and Gesher presents "Lights" a fantastic Hanukkah show to be aired on Tuesday, Dec. 20 at 7:30 p.m., Thursday, Dec. 22 at 7 p.m. and Tuesday, Dec. 27 on Comcast Cable Channel 96.
Some of television's biggest stars--Judd Hirsch, Leonard Nimoy, and Paul Michael Glaser -- join in on this festive holiday film for the whole family. For more information call the Torah Center at 908-789-5252 or e-mail info@torahcenter.org
http://www.nj.com/suburbannews/index.ssf/2011/12/union_county_torah_center_meno.html
Photographer
Photographs by Mr. Nimoy will be included in the Annenberg Space for Photography upcoming exhibit Beauty Culture running from May 21, 2011 through November 27, 2011.
"As much as beauty can astonish and inspire, it can also corrupt and subvert, rendering all else - and even itself - broken and obsolete. The great contemporary photographers do so much more than chronicle and celebrate what is beautiful in our time. They dig beneath it, they confront our compulsion with it, and they turn art's mirror on ourselves as well. I can't think of a more important conversation for the Annenberg Space to have," says Wallis Annenberg, Chairman of the Board, President and CEO of the Annenberg Foundation.
Other noted photographers and visual artists in the exhibit include: Andres Serrano, Carrie Mae Weems, Chuck Close, David LaChapelle, Ellen von Unwerth, Erwin Blumenfeld, Gilles Bensimon, Greg Gorman, Leonard Nimoy, Lillian Bassman, Lynn Johnson, Martin Schoeller, Mary Ellen Mark, Michel Comte, Nino Munoz, Norman Jean Roy, ORLAN, Patrick Demarchelier, Paul Lange, Robert Maxwell, Terry Richardson and William Claxton.
Showcasing images of performers, professional models and pop-culture icons, BEAUTY CULTURE features portrait and editorial images of Alek Wek, Angelina Jolie, Anja Rubik, Beverly Johnson, Bo Derek, Carmen Dell'Orefice, Cheryl Tiegs, Christy Turlington, Cindy Crawford, Crystal Renn, Du Juan, Elizabeth Taylor, Gisele Bundchen, Grace Jones, Helena Christensen, Hilary Swank, Iman, Jean Shrimpton, Kate Moss, Kristen McMenamy, Lakshmi Menon, Linda Evangelista, Madonna, Marilyn Monroe, Megan Fox, Michelle Pfeiffer, Nadja Auermann, Nancy Kwan, Naomi Campbell, Sophia Loren, Stephanie Seymour, Tatjana Patitz and Venus Williams.
Through the following themes, BEAUTY CULTURE will examine both traditional and unconventional definitions of beauty:
What Size Is Beauty?
What Color Is Beauty?
Beauty, Inc.: The $300 Billion Cosmetics Industry
Beauty for Money: The Professional Model
Beauty from Cradle to Grave
Dreams on Paper: The Pin-Up Girl
Extreme Beauty
Pageant Culture
Reaction and Revolution
The Hollywood Glamour Machine: Vamps, Vixens and Bombshells
The Marilyn Syndrome
Androgyny
Source:
PRNewswire
Emmy Awards
Leonard Nimoy steps in for Alec Baldwin who originally was cast in the opening skit for the 2011 Emmy Awards.
EMMYS: Fox Nixes Alec Baldwin Joke About News Corp Phone-Hacking Scandal In Opening Bit; Baldwin Walks, Replaced By Leonard Nimoy
EXCLUSIVE: The opening video for tonight's Primetime Emmy Awards on News Corp-owned Fox was supposed to feature 30 Rock star Alec Baldwin playing a fictional president of television. But after a joke about News Corp topper Rupert Murdoch and the ongoing UK phone-hacking scandal involving his media empire was cut from the pretaped bit, Baldwin pulled out. He was replaced at the last minute by Star Trek veteran Leonard Nimoy, who re-did the skit sans the News Corp joke. Baldwin vaguely referenced the incident in a Sept. 17 tweet. "I did a short Emmy pretape a few days ago. Now they tell me News Corp may cut the funniest line." Sources say that Baldwin worked with the writers who penned the script for the skit. He taped it, but after hearing that the Murdoch joke was being cut, he told the network that he prefers if the bit with him doesn't air at all.
Source: deadline.com
Goddess: An Exploration of the Divine and the Secular Forms of Beauty
Thursday, September 15, 2011
The videos from the lecture are here. Photos here. One more here. Plus photos at the Richard Michelson Galleries webpage here.
The Annenberg Space for Photography IRIS Nights Lecture Series
Focusing on Shekhina and The Full Body Project.
Leonard Nimoy
Goddess: An Exploration of the Divine and the Secular Forms of Beauty
Thursday, September 15, 6:30-8:00pm
Online registration for this even begins Wednesday, September 7 at 12pm PT and Thursday, September 8 at 9:30am PT.
Leonard Nimoy studied photography at UCLA under Robert Heineken in the early 1970s and produced a body of work that was published in two volumes of poetry. In 2001, his artist in residence appointment at the American Academy in Rome resulted in a series of provocative images inspired by the Antonio Canova sculpture of Countess Paulina Bonaparte Borghese, whose semi-nude posture created such a royal scandal in the 1800's that the Count had it locked away.
Nimoy's first photographic monograph, "Shekhina," published in 2002, explored feminine power using models of the "classic" body type. In "Maximum Beauty," his June 2005 exhibition in New York City, focused on our culture's perception of beauty. "Maximum Beauty" examined female power of an altogether different variety - joyful images of large bodied women. These photographs revealed proud, self-confident ladies who were comfortable in their own skin and challenged society's rigid definition of beauty. A collection of these images was published in book form and titled, "The Full Body Project."
Source: IRIS Nights Lecture Series
Hammer Lectures - Leonard Nimoy & Zach Quinto
On the 13th of September Mr. Nimoy will talk about his work on the Secret Selves project.
Description on the Hammer Museum page: "9/13/11 --- Actor turned photographer/folk anthropologist Leonard Nimoy discusses his photographic project, Secret Selves. Inspired by the Greek mythological idea that ever since Zeus split humans in two each person has been searching for his or her other half to feel complete, Nimoy asked subjects to reveal their hidden halves in front of his camera. The result is a collection of more than 100 portraits and interviews that explore humanity's alternate self. Nimoy will discuss what was revealed about his own secret self while capturing others'. Q&A with Zach Quinto. (Run time: 1 hour, 3 min.)"
Two Spocks Share 'Secret Selves' on Hammer Stage
Two "Spocks"—Leonard Nimoy from the Star Trek TV series and Zachary Quinto of the Star Trek movie—united for a lecture at the Hammer Museum on acting and discovering your true self.
The lecture, titled Secret Selves, was a discussion on celebrity, the separation of self (or selves), and the concept behind Nimoy's photographic exhibit, also called Secret Selves. Nimoy appeared onstage Tuesday night to a burst of applause and jokingly waved it away with a Vulcan salute.
(…)
After introductions at the Hammer, Nimoy screened a 40-minute documentary-style video that captured 25 of these portrait sessions. Some of the subjects were charmingly self-aware of their own zaniness, such as a children's book author dressed as a mad scientist with a briefcase filled with inane objects like a "light up blue thing." Most looked as if they were just having fun, but a few, like the downtrodden lesbian and the domestic abuse victim, were inspiring. One woman posed in her old Junior League suit complete with pearls and boxing gloves.
After the screening, Nimoy and Quinto sat down and jokingly began their Q&A session by sharing the little known fact that one thing they had in common was that both of their fathers were barbers. They interviewed each other about their respective paths to fame and how their roles as Spock affected their personal lives.
Source: http://centurycity.patch.com
I got to go to a discussion/conversation with Leonard Nimoy and Zak Quinto for Nimoy's newest photo essay Secretive Selves. It was pretty incredible. At first we watched a short film that gave us some insight to 25 of the hundreds of people he met/photographed and what kind of secretive self they had. Most of them were rather humorous and others were touching in their own way. I really enjoyed myself however, the audience Q&A lacked good,well thought out questions and two ladies were extremely rude towards Nimoy and Quinto at one point. The very last question took the cake though..it started out smart and well thought out and it eventually turned into a question about Nimoy's hit song of the 60's The Ballad of Bilbo Baggins. My little bro flipped because he wanted to ask so much about that song. It was an ultimate geek moment. Such a great night and it was all free :D
Source: therealmegumi.tumblr.com
Art of All Things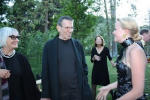 Leonard and Susan Nimoy were spotted at the "'Art of All Things' dinner and art auction" benefitting the Tahoe Fund.
[A] new environmental nonprofit launched last August. The Tahoe Fund raises private sector money and partners with public agencies in restoring and improving the extraordinary natural and recreational resources of Lake Tahoe. Proceeds from the benefit event will assist the new organization, which seeks to help fund bike trails, parks, restoration projects, interpretive programs, and other amenities that people use and enjoy around Lake Tahoe.
The evening was also a green event, from the color of the money it raised (more than $200,000) to the zero-waste commitment by the event organizers to cut down on the trash generated. After guests mingled on the lawn during the social hour and silent auction, everyone sat down by the water's edge to an exceptionally delicious dinner created by five of the most celebrated chefs from the Bay Area and Reno/Tahoe area.
Source: Sierra Sun and Truckee Envirolution
The Hammer Museum's annual Gala in the Garden drew a lively crowd of supporters of the Westwood museum and its works gathered to honor "The Simpsons" creator Matt Groening and artist Lari Pittman in Los Angeles on Saturday night.
Included in the crowd of celebrities and art enthusiasts were Jack Black, Neil Patrick Harris, Will Ferrell and Viveca Paulin Ferrell, David LaChapelle, Frank Gehry, Monique Lhuillier, Gina Gershon, Jenni Kayne, Eli and Edythe Broad, Ruth and Jake Bloom, Maria and William Bell and Leonard Nimoy.
Source: The Wall Street Journal & Women's Wear Daily
Photos from the Clickers and Flickers' photo group meeting on March 22, 2011
Meeting Leonard Nimoy by ~linus108Nicole on deviantART

"He. Was. Amazing.

I was lucky enough to meet Leonard Nimoy on March 22nd 2011 at The Castaway Restaurant in Burbank, CA where he was presenting his new photography book, Secret Selves. The event was hosted by Clickers and Flickers, an awesome photography group!

Here I am presenting him with a framed print of my Spock drawing. He signed the original one for me. His birthday is on March 26th and William Shatner's birthday is on March 22nd, so they share their birthday in the same week. Happy Birthday to you both, Leonard and Bill!

Oh, here he was saying that his secret self is Spock! hee hee."
"He looks great for 80! And that cream cardigan must be one of his favorite things to wear. It was a cold night. At the end of the evening, he got his things and walked out by himself and waited in line with the rest of us for the valet guy to get his car. He is such a humble and nice person!"
View all photos here at her gallery.
YouTube description "Leonard Nimoy speaking in Burbank, CA. at a "Clickers and Flickers' photo group meeting on March 22, 2011." It looks like Mr. Nimoy's daughter has found her calling being a chef. She runs her own catering business now.
An Evening with Leonard Nimoy
Sat, Apr 30, 2011 at 8pm (rescheduled from Sat, Oct 23, 2010)
Join us for an intimate evening of insight into one of film and television's greatest icons. Called 'the conscience of Star Trek,' by Star Trek creator Gene Roddenberry—the award-winning actor, director, poet and photographer Leonard Nimoy shares his portrayal of the rational and emotionally suppressed Vulcan as part of a remarkable and diverse career that's left an indelible imprint on American culture!
Notes from 'An Evening with Leonard Nimoy' in Long Beach
On Saturday night April 30th, TrekNews contributor Alton Carswell attended "An Evening with Leonard Nimoy" at the Carpenter Performing Arts Center in Long Beach, California. Below are some of his notes from the event.
- It was great to observe and listen to Leonard Nimoy as he discussed career. During the two-hour discussion Mr. Nimoy told some interesting stories and showed slides looking back on his acting career which has spanned five decades — From his initial roles as secondary characters and various roles in classic Hollywood Westerns and science-fiction films. He went on to discuss his time as Spock in the original Star Trek and later as the voice of Galvatron in the 1986 animated film Transformers: The Movie.
- He shared insight and thoughts on the reaction to his first book 'I Am Not Spock', and how it bruised his standing with Star Trek fans in the 1970's.
- Nimoy recounted Star Trek's impact on mainstream society, telling stories of some college professors rescheduling their classes away from Trek's 6:00PM primetime television slot to ensure students would show up for class.
- One theme which seems to run true in his analysis of his own journey as an actor in classic Hollywood is his connection to an inherent human experience which he melds greatly with the evolution of Spock throughout the years.
- After the discussion he greeted guests in the lobby sitting for close to an hour signing autographs and promoting his photography book "Secret Selves".
Accompanying the account at Trek News is a photo of Mr. Nimoy at the autograph table. (Found by Grace.)
Excerpt from "An Evening with Leonard Nimoy"
YouTube description: "Leonard Nimoy at the Carpenter Center in Long Beach, Ca recounts one of his journeys on the road of his life as an upcoming actor. (Apr 30, 2011)" Via LNTG
An Evening With Leonard Nimoy at the Carpenter Performing Arts Center in Long Beach, California
Audio only excerpt of his talk.
An Evening With Leonard Nimoy at the Carpenter Performing Arts Center in Long Beach, California (Found by Grace. Thank you for helping out when I didn't have the time to search the net)
We very much enjoyed Leonard Nimoy's presentation. He spoke at length of his background, his long career in acting, directing, poetry, and photography. He showed slides of old family photographs, his various acting roles, and his photography over the years (even before he became a fine arts photographer). He read some of his lovely, deep, and moving words of poetry from his various published volumes, and ended the 80 minute presentation with a benediction for all of us to lead creative lives. He was alternately funny, philosophical, intellectual, impish, and spiritual.
I don't know if he intends to video one of these evening presentations, but I hope he does. Regardless of one's personal attachment to his acting roles, his insight into the artistic process and the creative mind is captivating and inspiring.
And hey—we got to see Leonard Nimoy do a William Shatner playing Captain Kirk impression! What can beat that?
Source: A Writers Rambling. A photo from the event has been posted here.
An Evening with Leonard Nimoy at B'nai Israel Congregation
Wednesday, May 18 at 7:45 p.m.
An Evening with Leonard Nimoy at B'nai Israel Congregation
Wednesday, May 18 at 7:45 p.m.
Leonard Nimoy's portrayal of the intense, rational and emotionally suppressed Vulcan, Spock, on Star Trek has left an indelible imprint on multiple generations. First airing in 1966, Nimoy's character would become an icon over the years as the popular television show branched off into syndication and later onto the big screen as a series of six feature films. Nimoy's performance on Star Trek earned him three Emmy nominations.
As a successful movie director, Nimoy was responsible for Star Trek III: The Search for Spock and Star Trek IV: The Voyage Home, one of the most successful of the Star Trek films. He has also recorded ten narrative albums and authored several volumes of poetry, two of which feature his photographs. In 1975, Nimoy published the autobiography, I Am Not Spock and followed 20 years later with the sequel, I Am Spock, which he refers to as "coming to terms" with his alter ego.
As well as being an award-winning actor, director, poet and photographer, Nimoy, a true Renaissance Man, is a benefactor of the arts and sciences. In 2003, he and his wife, Susan Bay-Nimoy, founded the Nimoy Family Foundation, a philanthropic organization that provides funding for education and arts programs. The couple is also known for their leadership and generosity in the Jewish community.
More here.
Photos from An Evening with Leonard Nimoy at B'nai Israel Congregation
Grace (you're amazing!) has found a source for many more photos from the event. Please go here to take a look.
An Evening with Leonard Nimoy at B'nai Israel Congregation
Last month Grace attended Mr. Nimoy's talk at B'nai Israel Congregation and I'd like to thank her for making the program avaialble to us.
An Evening with Leonard Nimoy at B'nai Israel Congregation
Leonard Nimoy Describes His Jewish Roots
ROCKVILLE, Md. (RNS) The V-shaped hand sign that made actor Leonard Nimoy famous as Mr. Spock may have seemed to be from a planet far away. But the "Star Trek" star says he created it from childhood memories of his Jewish family.
"I reached back to my early years as a child when I was sitting in a synagogue in Boston with my family at the High Holidays," he said Wednesday (May 18) at B'nai Israel Congregation here.
Before the sold-out audience in suburban Washington, the 80-year-old actor re-enacted the blessing Jewish leaders recited at that Orthodox service. Prayer shawl over his head, he stuck out his hands in the shape of the sign he adapted for the TV show that ran for just three seasons in the 1960s but became an instant pop culture phenomenon.
Read on here at the Huffington Post. The following pictures from the event are courtesy of Ebby02.
2014201320122011201020092008200720062005