Events
2005
The Writers Guild's Presents Writers Block: Leonard Nimoy Interviewing Gene Wilder (2005)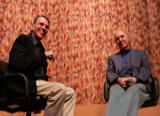 (more/close)
LAist has this account from the event:

Last night we were among the fortunate attendees at the sold-out
Writers Block
event featuring Leonard Nimoy interviewing Gene Wilder, a strange but wonderful wrinkle in the pop culture universe. Nimoy, who directed Wilder in 1990's Funny About Love, got Wilder to tell some great stories, a few of which are in his new memoir Kiss Me Like a Stranger. Our favorite: Gene Wilder got the script for Willy Wonka and told the director he'd do the film, but only if they made some changes to his entering scene. What Wilder wanted: to come out using a cane, hobbling, bringing a terrible hush over the crowd. Then you would hear the murmur of "a cripple!" and then, the cane catches and he topples — but somersaults! He leaps up! He's not lame at all! The director asked if that was the only thing he needed to say yes, and Wilder said it was, so it was in. Why, the director wanted to know. "So after that they would never know when I was lying," Wilder said, creating a fabulous unreliable hero for kids desperate for a Disney antidote. But Wilder himself was sweet rather than sly, and we imagine that in real life he is a music maker. He is a dreamer of dreams.
Photo: see IMDB for higher resolution.
Leonard Nimoy Speaks About His Jewish Identity and More in Israel (2005)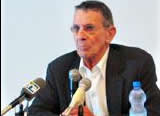 (more/close)
(...) Meeting Mr. Nimoy was a prospect not to be missed, so I took a day off from my studies (we only get one day off a year) and headed to the Tel-Aviv Cinematheque Prior to attending the press conference and lecture at the cinematheque, Mr. Nimoy spent his time in Israel visiting the Herzeliya Museum of Modern Art, teaching a master-class at the Beit Zvi Academy of Performing Arts and having dinner with Israeli stage and film veteran Gila Almagor and her husband Yaakov Agmon, until recently CEO of Habima, the National Theatre. They met last year while Habima was visiting New-York with "Kaddish Le'Neomi", and their performance took place in the Leonard Nimoy Thalia Theatre
(...) The man who walked into the room, sans makeup and costume, was warm and smiling, obviously well-versed in situations like this, and oh so human. The most I got from this meeting with him was not when he spoke about Star Trek (and how could he not, having two autobiographies, one entitled "I am not Spock" and another, published twenty years later, entitled "I am Spock"), because lets face it, I knew all of that information by heart, but when he spoke about the work he has done in the last twenty or so years, mainly as a director and photographer.
More here. See also this interview here.
2014201320122011201020092008200720062005