Events
2002
Shekhina Book Tour (2002)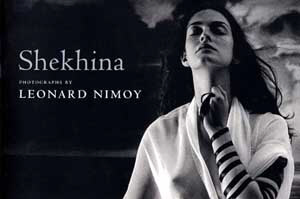 Mr. Nimoy signed and talked about his book where he was welcome. (more/close)
So how have fellow Jews responded to Shekhina? Reactions have varied from enthusiastic support to open condemnation. Due to vehement protests by Orthodox factions, a handful of his appearances have been relocated to facilities run by Reform congregations - causing Nimoy to joke that he feels like the proverbial "wandering Jew". The protests center around the nudity, and the combination of sacred objects and symbols in what some see as heretical contexts. The cover of the book features a semi-nude model whose arm is wrapped with a ritual binding traditionally reserved for men alone - and many of the photos within depict the Shin (which inspired the Vulcan salute) juxtaposed with various nude and semi-nude figures.
Nimoy claims that objections to Shekhina don't bother or surprise him, but he smarts at the stridency of the Orthodox protests, and is "saddened at the attempt to control thought." Nimoy insists that his "credentials as a Jew and as an artist are solid" and points out that he consulted with both rabbis and artists during the creation of this new book.
More here: Leonard Nimoy: Shedding Light on Shekhina, article based on Leonard Nimoy's recent presentation at the Marcus Jewish Community Center of Atlanta. 2002.
Shekhina Presentation and Book Signing
with Leonard Nimoy
February 12, 2003
Leonard Nimoy is currently on a tour of Jewish Temples promoting his new book of photography, Shekhina. I only found out about his appearance in South Florida the day before. It is not often one gets to see such a legendary figure in an intimate setting. I promptly purchased two tickets and set off with Tanya on a seventy mile journey. We arrived early and were able to secure seats very close to the front. Mr. Nimoy spoke for over an hour about aspects of his life as well as his new book, all accompanied by slides. He first showed a slide of a bulky old camera, which he told the audience he used for all his photographs. They believed him all too well, and he pointed out he was joking. He next went on to speak about his grandfather, who worked hard to pay the way for his family to come to the United States. He fell in love with acting at an early age to the disappointment of his parents. There is an old Jewish saying that a cloth is torn when someone departs, and he said many cloths could be heard tearing at that time. He spoke fondly of his role in Star Trek, saying that it made many other opportunities possible for him. Fans began to call his home number after the first episode, leaving him scrambling to change it. In the early 1970s, he seriously considered a career change to photography and enrolled at UCLA. He also spoke about his stage productions, which include Fiddler on the Roof and the lead in Sherlock Holmes. He nearly turned down the role of Morris Meyerson in the miniseries A Woman Called Golda because he didn't think he could get under the skin of the character. However, when he learned Ingrid Bergman (from Casablanca) would be his co-star, he quickly did an about face.
He next went on to speak about his photographs in the book itself. He explained that the word "Shekhina" means "the feminine presence of God." Jewish mysticism tells that when God created the universe, extra pieces of it broke off and scattered. If these pieces can be collected together, evil will be vanquished. The book uses a mixture of black and white photography and various uses of light to convey this struggle between light and darkness. Nimoy explained that the images represent different stages of transformation. One of them depicted a woman cupping a small ball of light in her hand, another showed her completely engulfed in brightness. The most striking images showed Nimoy's vision of a spiritual pregnancy and birth. One constant throughout the images was the incorporation of the Greek letter "Shin", the first character of Shekhina. Star Trek fans will recognize this as the famous Vulcan greeting. He explained about how he first created this greeting for the episode Amok Time. This was the first episode to depict Vulcans other than himself, and he thought they needed something unique to signify their culture. He threw a shawl over his head, walked to the center of the stage and began chanting loudly, making the "Shin" symbol with both hands. He had actually seen this as a child, by peeking at a Jewish ceremony. It wasn't until recently that he found out the true meaning behind it. The cloth worn over the head was to protect the wearer from the Shekhina, which would be far too much for mere mortals to look upon. This led him on a journey to capture the essence of Shekhina himself.
Mr. Nimoy then took some questions from the audience. The fans were mostly well behaved in respecting that this was not a Star Trek convention. We learned that Nimoy develops all the film himself and does not use any digital techniques. I asked him if there were any images he envisioned that he found hard to translate onto film. He responded that he often did have an exact vision of the picture before it was taken. He would place the models into different settings until the vision was realized. One humorous moment came when a woman offered a competing view of the Shekhina. When Nimoy asked if she saw any of her view in his work, she said she could not because she brought the wrong glasses! Next, the event moved from the synagogue to a reception area where the signing would take place. I was all ready to purchase a book until I saw the fifty dollar sticker price. I thought I'd have to leave without an autograph, but I took a chance, and Mr. Nimoy kindly signed both of our program sheets. Take a look at the pictures below to see the event for yourself.
More
here
.
Mind Meld Promotion Tour (2002)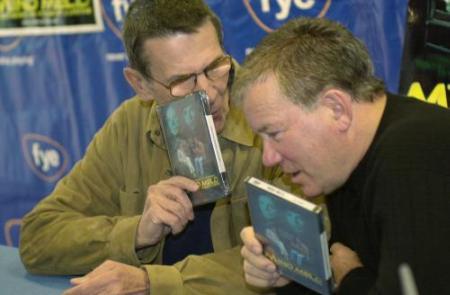 "Leonard Nimoy, left, and William Shatner talk privately while autographing copies of their recently released DVD/VHS 'Mind Meld: Secrets Behind the Voyage of a Lifetime', Sunday, March 17, 2002, in the Century City section of Los Angeles." Source: Bartcop Entertainment
2014201320122011201020092008200720062005