Events
2010
Opening of "Secret Selves" at the Mass. Museum of Modern Art (2010)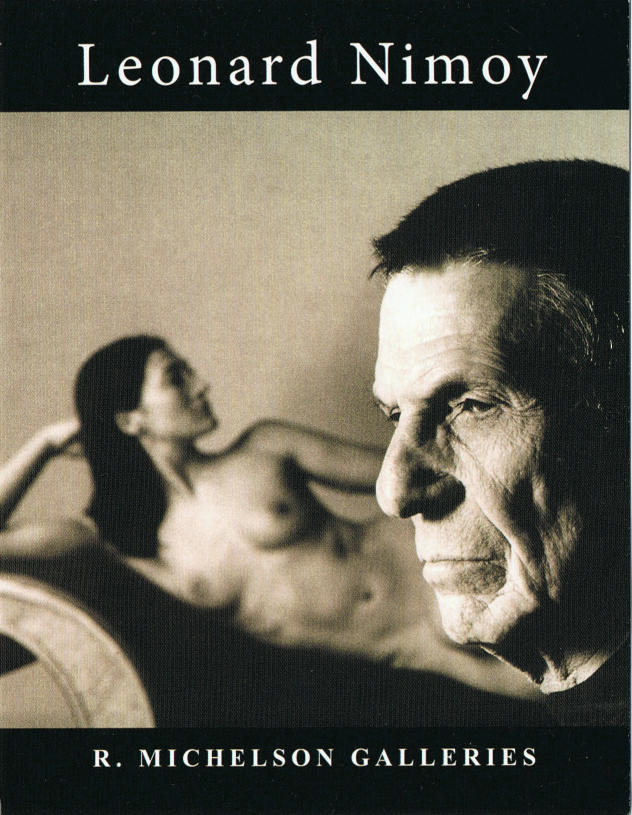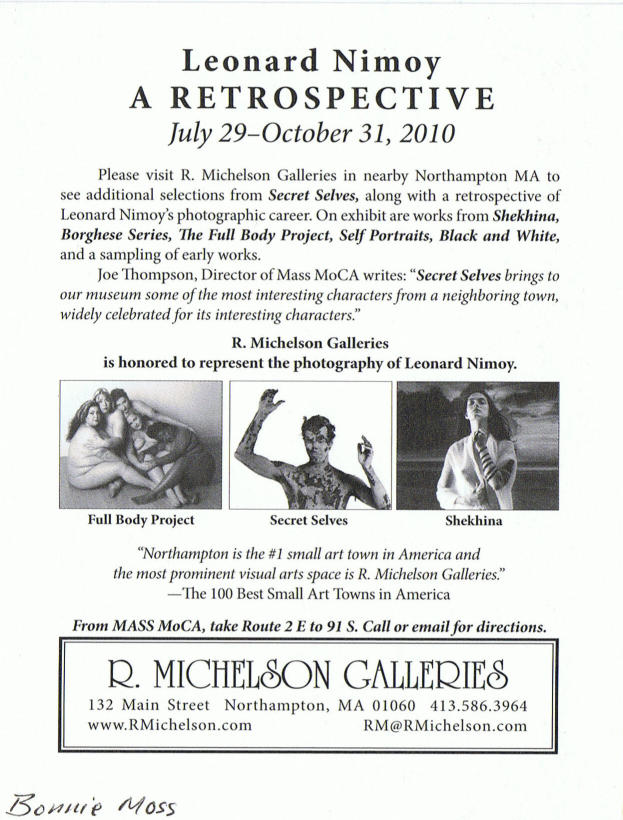 Long time fan Bonnie Moss had the opportunity to become a sponsor for the "Secret Selves" exhibition at the Massachusetts Museum of Modern art, meet Mr. Nimoy and have her picture taken by him. My heartfelt thanks for sharing that very special experience with us at Beyond Spock.
Through a business associate/friend of Mr. Nimoy's that I met in Boston last November, I found out more about Mr. Nimoy's photography exhibition to open in July at MASS Moca - the largest contemporary arts center in the U.S. I was determined to go and Gary (the friend) encouraged me and said he would help if he could.
I developed a pleasant correspondence with Rebecca Wehry, the Special Events Coordinator at MASS MoCA, who was wonderful in giving me details of the event, which included opportunities to assist in sponsoring "Secret Selves." My friend, Susan Fox and I decided to contribute in this capacity. When I later found out that Mr. Nimoy would personally photograph anyone as their "secret self" at another level of sponsorship, I decided to move up to become a "supporting sponsor." The opportunity to watch Mr. Nimoy work as a photographer was a thrilling prospect! To my delight, Ms. Wehry called me a few weeks later and asked if I would like to attend a private dinner the Friday before the opening that included museum trustees/sponsors and the Nimoys! Of course, I accepted. Read more here.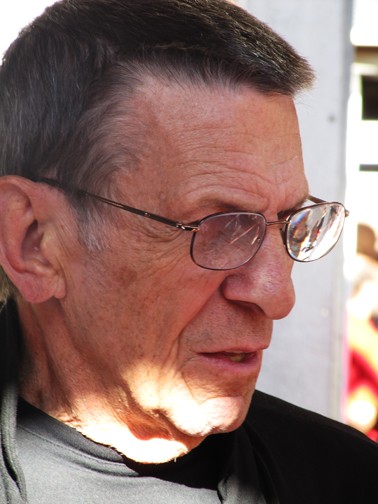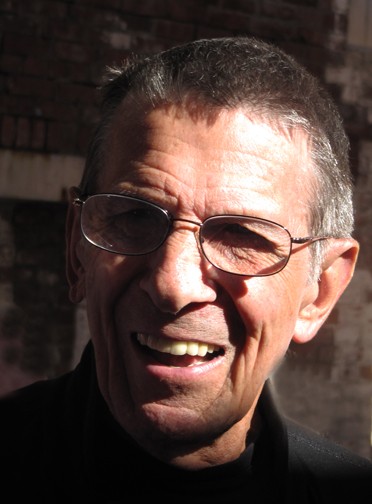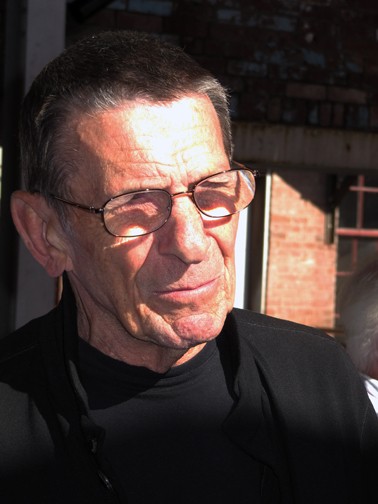 Impressions from the opening day at Mass MoCA. More at Berkshire Fine Arts
Los Angeles Times Hero Complex Film Festival (2010)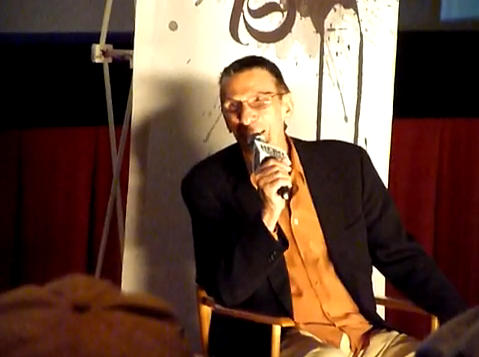 Leonard Nimoy was the first of the directors invited to participate in a Q&A after a screening of their films over the weekend from June 11th-13th. (more/close)
There is a picture here and a summary of the evening at the Los Angeles Times and Collider has a summary of the Q&A session that followed. Here are some excerpts.
After the finished the series, he had something of an identity crisis, especially in playing dictators on Mission: Impossible.
Talked about being on Fringe and how he did it because of the great job everyone did on the new Trek movie, but was ultimately dissatisfied with his first 3 episode arc. Because of that, Nimoy refused to come back until JJ Abrams ultimately called and asked. He ended up happy with his arc and felt it ended much like Wrath of Kahn.
After Star Trek VI: The Undiscovered Country, he didn't feel closure with the character. He didn't really feel that until he teared up in a pitch meeting the writers of the new film had with him.
Next year is the 60th anniversary of his acting career and he talked a bit about how that started, some of his early movies, and how his role in Kid Monk Baroni garnered good enough reviews to give him confidence to struggle for 10 years doing odd jobs before landing Trek.
Red Book Dialogues (2010)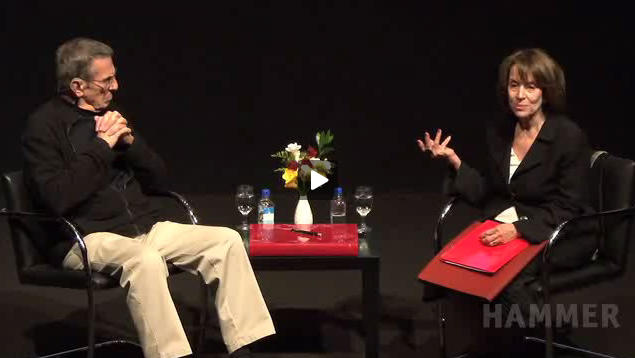 Famous psychologist C.G. Jung's long unpublished Red Book was on display at the Hammer Museum. Accompanying the exhibition was a series of nine public conversations, as the Los Angeles Times reported, between "a highly regarded Jungian analyst and a well-known artist, writer or thinker" (more/close)
Leonard Nimoy, whose immensely popular portrayal of "Star Trek's" Mr. Spock can be considered an archetype in its own right, will be participating in a discussion with analyst Beverly Zabriskie to speak both about "The Red Book" and a recent body of portraits he has created of volunteers costumed as their "secret selves."
E3 Conference (2010)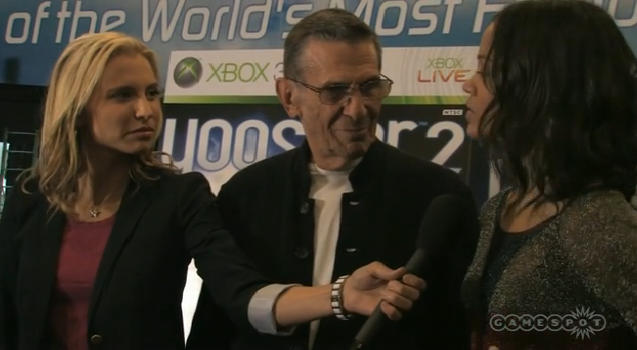 Mr. Nimoy demonstrated Yoostar2 at the Electronic Entertainment Expo, a video game that allows people to put themselves into movie clips. (more/close)
The interview can be downloaded at the gamespot page.
The BBC also got to interview him:
Star Trek legend Leonard Nimoy talks "pointy ears" and computer gaming with the BBC's Daniel Emery.
The actor, who played Spock, is at the E3 conference in Los Angeles to promote the game Yoostar 2.
More interviews and pictures at: Genuine Gamers and Physorg.
Leonard Nimoy Visits Vulcan, Canada (2010)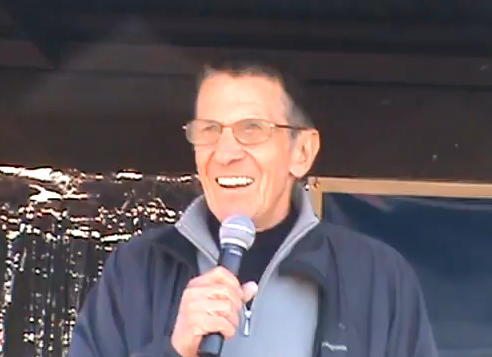 The town of Vulcan in Canada adopted Star Trek as a theme to bring tourists to their part of the world and it seemed only logical to invite the most well known Vulcan to stop over while he was in the country for a convention. (more/close)
See the Trek Movie news roundup for more. At the Calgary Herald you can find another 10 min. video interview with Mr. Nimoy and also at the BBC.
Mr. Nimoy pointed out this video at Twitter:
Space Foundation Space Technology Hall of Fame Dinner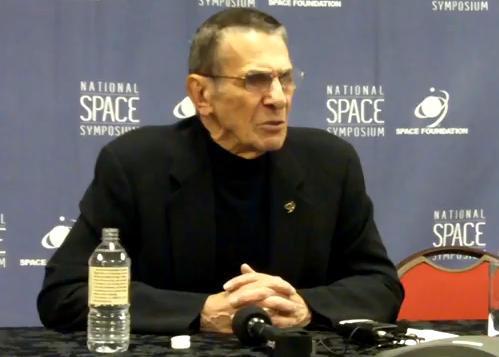 "To the delight of generations of Star Trek fans, the Space Foundation has chosen Leonard Nimoy to inspire the audience at the 2010 Space Technology Hall of Fame Dinner (...)" (more/close)
Leonard Nimoy to Headline Space Foundation Space Technology Hall of Fame Dinner April 15

COLORADO SPRINGS, COLO. (Nov. 30, 2009) - To the delight of generations of Star Trek fans, the Space Foundation has chosen Leonard Nimoy to inspire the audience at the 2010 Space Technology Hall of Fame Dinner April 15. The dinner is the capstone event of the 26th National Space Symposium, which runs April12-15 at The Broadmoor Hotel in Colorado Springs, Colo.

"Leonard Nimoy has inspired people around the world to explore the wonders of science, space, and technology through his television and motion picture portrayals of Star Trek's Mr. Spock and through his career as an actor, author, director, and an advocate," said Space Foundation CEO Elliot Pulham. "That spirit of exploration and discovery is echoed in the Space Technology Hall of Fame, which annually recognizes technologies from space that now improve life here on Earth.
"You might say that we both share the same goal," Pulham continued. "To live long and prosper."
Nimoy has enjoyed a long acting and directing career since gaining worldwide fame during Star Trek's run during the 1960s. From the original series, through the original motion pictures, to the 2009 blockbuster film Star Trek, he has brought dignity and intelligence to one of the most revered characters in science fiction. He is also an accomplished writer, photographer, speaker, and voice actor, and is active in the Jewish community.
Since 1988, the Space Technology Hall of Fame, in cooperation with NASA, has honored those who transform technology originally developed for space exploration into products and services that help improve the quality of life here on Earth. Dozens of technologies and hundreds of individuals and organizations have since been recognized. Visit www.SpaceTechHallofFame.org for more detail.
Presented by the Space Foundation, the 26th National Space Symposium brings together all sectors of space - civil, commercial, national security, new space entrepreneurship, and finance - to highlight accomplishments and address opportunities and issues facing the global space community today.
The Symposium offers presentations, panels, forums, and workshops covering all aspects of space, plus a number of special dinners and luncheons, and presentation of several prestigious space-related awards. The Symposium concludes with the Space Technology Hall of Fame Dinner – now in its 23rd year. Hall of Fame inductees will be announced soon.
The National Space Symposium's top allure to attendees, exhibitors, sponsors, and speakers – of which there were nearly 8,000 in 2009 – is as a venue for networking and conducting meaningful business. Said Pulham, "The Space Foundation offers each potential registrant the extraordinary opportunity to 'Attend and Prosper.'"
Online registration and more information, including agenda, speakers, and exhibitors, are available at www.NationalSpaceSymposium.org.
About the Space Foundation
The Space Foundation is an international, nonprofit organization and the foremost advocate for all sectors of the space industry - civil, commercial, and national security. Founded in 1983, the Space Foundation is a leader in space awareness activities, educational programs that bring space into the classroom, and major industry events, all in support of its mission "to advance space-related endeavors to inspire, enable, and propel humanity." An expert in all aspects of the global space industry, the Space Foundation publishes The Space Report 2009: The Authoritative Guide to Global Space Activity and provides three indices that track daily performance of the space industry. Through its Space Certification and Space Technology Hall of Fame programs, the Space Foundation recognizes space-based technologies and innovations that have been adapted to improve life on Earth. Headquartered in Colorado Springs, the Space Foundation conducts research and analysis and government affairs activities from its Washington, D.C., office and has field representatives in Houston, Texas, and Cape Canaveral, Fla. For more information, visit www.SpaceFoundation.org. Follow us on Twitter: SpaceFoundation and read about the latest space news and Space Foundation activities in Space Watch.
Source:http://www.nationalspacesymposium.org/media/press-releases/leonard-nimoy-to-headline-space-foundation-space-technology-hall-of-fame-dinner
Press Conference National Space Symposium
2014201320122011201020092008200720062005