Events
2007
Claremont Graduate University's 15th Annual Kingsley and Kate Tufts Poetry Awards (2007)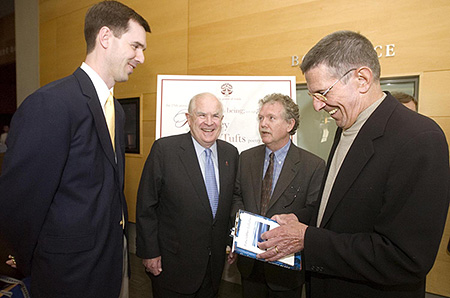 "Leonard Nimoy introduced the winners and read poems from each of their award-winning books" (more/close)
The Force of Poetry
Former U.S. Poet Laureate Robert Pinsky spoke at the Claremont Graduate University's 15th annual Kingsley and Kate Tufts Poetry Awards ceremony, held recently at Zipper Hall. Leonard Nimoy introduced the winners and read poems from each of their award-winning books.
The ceremony was followed by a patron dinner at the Omni Hotel honoring the winners. Award recipients were Rodney Jones ($100,000 Kingsley Tufts Award) and Eric McHenry ($10,000 Kate Tufts Discovery Award), with a special recognition to emeritus president John D. Maguire.
Source: Jewish Journal
Hammer Museum Gala in the Garden (2007)
On October 12, 2007, artists, gallerists, philanthropists, collectors, important figures in entertainment, and fashion world notables gathered for the Hammer Museum's fifth annual Gala in the Garden. The Gala raised $1 million for the Hammer's renowned exhibitions and public programs and honored influential LA-based artist Mike Kelley and legendary designer and patron of the arts Miuccia Prada. The event was chaired by Susan Bay Nimoy and Leonard Nimoy with tribute speeches by Cindy Sherman and John Waters.
Source: Hammer
2007 HRC SF Bay Area Gala Dinner
The 2007 Dinner was held on July 14th, 2007 at The Bill Graham Auditorium. The event was one of most well attended dinners with over 1000 guests. Dinner Co-Chairs Micah Dickerson and Rebecca Heaps assembled a great team of over 100 volunteers to produce the dinner event. Our keynote speaker of the evening was Elizabeth Edwards, wife of presidential candidate Senator John Edwards. The show included a performance by Curt Branom from Beach Blanket Babylon and one of the stars of Teatro Zinzanni, Mat Plendl. Our Equality Award winner, George Tekai [sic.], of Star Trek fame, was presented his award by colleague and long time friend Leonard Nimoy. Our VIP Afterparty was hosted once again by our incredible MEDIA SPONSOR, ENERGY 92.7FM and the whole evening was hosted by those crazy morning show guys, FERNANDO AND GREG.
Source: Human Rights Campaign
2014201320122011201020092008200720062005