VoicesNuTrek Page 1 - Page 2

Zachary Quinto
(more)

Meeting Leonard Nimoy
Karl Urban convention appearance at Supanova in Sydney, Australia 2009. (more/close)
The last question asked was about Leonard Nimoy. Urban seemed excited to tell this next anecdote, and it was a great moment to finish off with. Urban related the surreal experience of seeing Nimoy arrive on the soundstage in full Spock makeup, with the Vulcan ears and the eyebrows, but he didn't get much of a chance to get to know Nimoy until the rounds of publicity press junkets started.
He said that, after the movie had been viewed by the cast for the first time, Nimoy wanted Urban to meet Nimoy's wife, Susan Bay. She made a point of telling Urban, "You know, when you came onscreen as McCoy and delivered those opening lines, Leonard cried."
More at Have Phaser, Will Travel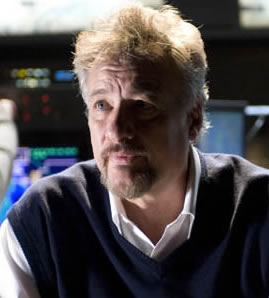 Actor John De Lancie Discusses Alien Voices and Rebooting Trek — An AMC Interview
Q: And now Leonard is reimagining scifi with the new Star Trek. What did you think of the movie? (more/close)
A: Oh I thought that Abrams had really breathed life and a whole new way of looking at a very honored franchise. And I think that it was certainly time to do it that way. Those frontally-didactic shows that they were doing towards the end were just a little old-fashioned. This felt new and fresh, and Leonard was terrific. I think that they somehow were able to get the franchise off of life support and back on its feet. Maybe 40 years ago it was new, but they had too many television shows and too many vain attempts of late that this was very refreshing. My wife was crying in the first part of it [Laughs]. I was like, I can't believe it. And Leonard had told me they really do some nice stuff with the characters, and he was right. So it was nice. Read the full interview at
Slice of SciFi

Brad Pitt gets some competition - from Leonard Nimoy!
Remember when Leonard Nimoy was told on The View and Late Night With Jimmy Fallon that Angelina Jolie was smitten by Spock? Pitt Watch has a reaction to that.

Resistance is futile! And you don't have to speak Klingon to enjoy J.J. Abrams' joyous and sexy update of the sci-fi classic.
"Nimoy (...) looks wonderful. He's got the face of an actor who's actually lived, not of one who's tried to hide the effects of living." (more/close)
"It took me a while to warm up to Pine's Kirk. His bland handsomeness just can't match the compelling strangeness of Quinto's Spock -- but that's the point. In "Star Trek," Kirk and Spock butt heads from their first meeting, and they don't actually admit to liking (or even respecting) each other until the film's final moments. That's as it should be. Pine's Kirk, freewheeling and fast-thinking, makes decisions from the gut; he's the frat boy to Spock's honor student. But the two actors balance each other perfectly, and Quinto, in particular, gives a performance that's both richly shaded and quietly vibrant. Nimoy did that beautifully in the television series, and Quinto, with his somber eyes and perpetually quizzical eyebrows, carries the torch here. Even his complexion looks like marble, a substance incapable of showing emotion until emotion is carved into it; Quinto does that from the inside out.
And so when Nimoy appears in this "Star Trek" as the older counterpart to Quinto's character -- this is where that time-bending plot device comes in -- we get to see both the man Spock grew out of and the man he'll grow into. Nimoy is playing the character who's already been where Quinto is boldly going, and he looks wonderful. He's got the face of an actor who's actually lived, not of one who's tried to hide the effects of living. His youth is alive in him, as opposed to being an indistinct, vaguely remembered thing. And he's perfectly at home in a movie that recognizes how reinvention can be a form of rejuvenation."
Salon.com
Posted on May 8, 2009 (more)

No Nimoy in next Star Trek Movie but getting an Impossible Mission instead?
In this interview from October 9th, 2009 with the Coventry Telegraph Abrams does not preclude an appearance by Leonard Nimoy in general. (more/close)
In an interview reported by IGN Leonard Nimoy doubts, on the one hand, he'll get a call again:
"My understanding is they're working on a script right now," said Nimoy. "I expect there's going to be some time before they really know exactly who they need and what they need. I frankly, frankly doubt that I will be called upon again. I think I was useful in his last film to help bridge between the original characters, the original actors, and the new cast. They have a wonderful new cast in place, and I'm sure they'll move ahead with them. I don't see, at the moment, why they would need me in the next film, although, if they called me, I'd be happy to have a conversation about it."

When asked about his reaction to having been included in the J.J. Abrams reboot, Nimoy replied, "It gave me a sense of validation after all these years. I had been out of it for some time, as you're probably aware. There were several Star Trek series in which I was not involved and Star Trek movies in which I was not involved. This was a re-validation of the work that I had done, the work that we had done on the original Star Trek…I had a great time working on the movie. I think they did a brilliant job, and I think the audience response shows that that was the case and has reinvigorated the franchise."
In an interview with Blastr he jokes about his character being called Spock Prime now:
"That's right, I'm in the prime of my life, right," Nimoy laughed.
J.J. Abrams, on the other hand, besides thinking of filming the next movie in 3D, is not so fast in dismissing the idea in an interview with the Coventry Telegraph:
Abrams added that working with Leonard Nimoy again would be a joy, despite the actor recently saying he believed the franchise didn't need him any more: "I can't imagine a Star Trek movie not needing him. I'm sure that what he's saying is a combination of modesty and honesty. He may actually feel that way. But the truth is we could never have made this movie without him and working with him again would be a joy.

"It is clearly too early, given that we are just now talking story, to conclude whether or not Spock Prime is in the film or not. Do I want to work with him again? Of course, 100 per cent. I'd love to."
In an interview with Collider he also speculates about sneaking in a member of the original Mission Impossible series in the upcoming movie:
How cool would that be? I just got a call that Peter Graves is in great shape, which would be a very bizarre bend in the space-time continuum, for obvious reasons. I almost feel like you could make him serious again and bringing him back. Whether it's Nimoy, who I have an incredible affinity for, or Graves, or anyone, we'll see. I actually tried to get Martin Landau in Mission 3, in a very small little moment just for fun, and was told that he had no interest in doing it. But then, when I met him, after the movie came out, it was the greatest thing. We were at this restaurant in New York, for one of the TV Upfront parties, and someone introduced me to Landau. They took me over and Martin Landau came over to me, extended his hand, and [pretended to lift his face off]. That was the greatest thing I'd ever seen.

All Ears...
Make-up artist Scott Gamble talked about sculpting the pointed ears for Abram's Star Trek and what was new about the way they did it for the movie. (more/close)
Gamble was responsible for molding the ears, the Romulan foreheads, and other prosthetic pieces.
"The process for the way we made our prosthetics was different than in the old days, on the original series," he said. "Back then, Leonard Nimoy's ears were made out of foam latex, like the ape muzzles in the Planet of the Apes films. The industry has evolved and the prosthetics are now often made from a silicone material that is plasticized in such a way that looks and compresses like real skin. If you poke it, it feels like a cheek."
J.J. Abrams, the director of the film, wanted the ears to be flawless on tight close-ups which created a challenge for Gamble and the prosthetics team.
"Previously, there was a front, a back and an inner core to the molds," said Gamble. "There would be a seam line that would run up the front and back edges of the ear that had to be erased. Often, on some later episodes of the original series of Star Trek, you can actually see the mold seam going up Leonard Nimoy's ear that didn't get camouflaged properly. J.J. was adamant that he didn't want to see that. They look more realistic as a result. Star Trek 2009 was the first time this sort of thing had been done with silicone prosthetics and was an innovation for the industry."
More here. You can find a high resolution picture of this photo in part 1 and more of Leonard Nimoy in part 2 at SciFi Now as part of their The Secrets of Star Trek article on the make-up department.

Trekkin' With Orci & Aliens
On June 14, 2010 Roberto Orci talked to IGN about his upcoming projects and the possibility of seeing Leonard Nimoy in the next Star Trek movie. (more/close)
IGN: Leonard Nimoy's been very adamant that he's done acting. Were there ideas you had for the sequel that are derailed by that?
Orci: He was so generous and gracious to us as fans and to us as people working on that franchise to come out of retirement that it's embarrassing to ask him to do another god damn thing. So if he came over and said, "I really want to do something," we'd listen. But we're not about to go and beg him one more time. He has served Star Trek more amiably than anyone can ever hope and we will defer to his wishes.
More here.