Meeting Nimoy
On his blog Alan Smason writes about meeting Leonard Nimoy and DeForest Kelley back in 1975 at Tulane University:
"Star Trek" - the final broadcast five years later
In 1975 my "Star Trek" brush-with-greatness moment came when the Tulane University programming committee (TUCP) arranged to have series stars Deforrest Kelly (Leonard "Bones" McCoy) and Nimoy appear as guests. While a crowd packed McAlister Auditorium watching "Amok Time," the episode that showed Spock returning to his home planet of Vulcan to "marry" his chosen mate, several lucky planners and I had the sheer luck to have dinner with the two actors in a private upstairs room at world famous Antoine's Restaurant. Nimoy wanted filet mignon; Kelly wanted seafood. The headwaiter suggested they have both. Other waiters kept interrupting the dinner to ask for autographs. It was very exciting and, as it turns out, expensive when we all were forced to repay the entertainment fund for what the dinner cost a few weeks later. Just prior to dinner, when we picked up Kelly and Nimoy at the Pontchartrain Hotel to bring them to the restaurant, they filled us in on what was then a new animated Filmation and Paramount Television series being run on Saturday mornings. Basically, it was the original actors doing voiceovers, so production costs were relatively low except for what the animation cost. Paramount didn't want to release a movie just yet because the studio was concerned about recouping costs from the original series and wanted to squeeze out as much of the syndication money as they could. Paramount did give in to public pressure, releasing the first of the Star Trek films about four years later in 1979. That meeting with Nimoy was also the time I learned about the Vulcan salute. Nimoy, an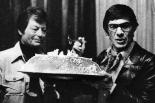 Orthodox Jew (Shatner is also Jewish, albeit less observant), used the priestly blessing of the Kohanim he had learned as a youth at his Hebrew school as the sign of peace. The picture seen here shows Kelly and Nimoy with a baked Alaska from Antoine's that bears the names "Dr. McCoy & Mr. Spock."
For a higher resolution picture and the full blog entry go here.