Opening of "Secret Selves" at the Mass. Museum of Modern Art (MASS MoCA)
July 30-31, 2010
- Bonnie Moss -
Through a business associate/friend of Mr. Nimoy's that I met in Boston last November, I found out more about Mr. Nimoy's photography exhibition to open in July at MASS Moca - the largest contemporary arts center in the U.S. I was determined to go and Gary (the friend) encouraged me and said he would help if he could.
I developed a pleasant correspondence with Rebecca Wehry, the Special Events Coordinator at MASS MoCA, who was wonderful in giving me details of the event, which included opportunities to assist in sponsoring "Secret Selves." My friend, Susan Fox and I decided to contribute in this capacity. When I later found out that Mr. Nimoy would personally photograph anyone as their "secret self" at another level of sponsorship, I decided to move up to become a "supporting sponsor." The opportunity to watch Mr. Nimoy work as a photographer was a thrilling prospect! To my delight, Ms. Wehry called me a few weeks later and asked if I would like to attend a private dinner the Friday before the opening that included museum trustees/sponsors and the Nimoys! Of course, I accepted.
On Friday July 30, I had arranged to fly to Charlotte, N.C. to meet my friend. then we were to fly together to Albany, New York. From there we would rent a car to drive another hour to North Adams. As I said earlier I was determined to be there!
Unfortunately, my flight out of Greensboro was cancelled due to a bird striking the plane (just like that flight that had to land in the Hudson river last year!) I was beside myself! Finally, the airline found a flight to Albany through Philadelphia - my friend would have to fly on her own from Charlotte and then wait for me several hours at the Albany airport. Long story short - this delay caused us to get to North Adams after the dinner had started! We had to change clothes in the hotel lobby bathroom and threw our suitcases behind the check-in counter! We had thought we would have hours to prepare - oh well...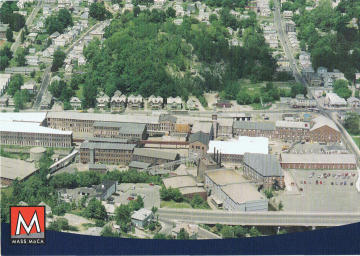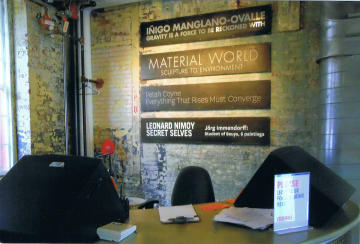 We had arrived at the Gramercy Bistro, a small restaurant on the campus of MASS MoCA, as everyone was eating the first course. Luckily, my museum contact had saved us seats and expedited our catching up on being served. We had a lovely 3 course meal with a choice of wine. To out surprise, we learned that sponsors, the museum and/or the Nimoys were providing the dinner for all guests.
The Nimoys, museum staff, sponsors, trustees and other guests were spread out among the tables (we had the whole restaurant.) At our table were two MASS MoCA staff (including the Manager of Corporate Grants), an artist who made custom eyewear (for Eric Clapton and Hillary Clinton, among others) and John Stromberg of the Art Department of nearby Williams College. As it turned out, he wrote an analysis of Mr. Nimoy's work that appears in the "Secret Selves" book published to coincide with the exhibition's opening. (This book is available through Mr. Nimoy's photography website via the R. Michelson Gallery.) All of us had a great time talking! i was informed that several members of the Nimoy family, including Mr. Nimoy's brother, children Julie and Adam and stepson Aaron, were also in attendance. The restaurant was dark in areas - I think I spotted most of them.
Here is where things became surreal - before the meal was over, the Director of Development for the museum, Jennifer Thompson, stood up and thanked me for my sponsorship! Everyone raised their glasses in a toast! I was totally flabbergasted ! I felt the recognition exceeded my contribution, but I was warmed and humbled by it.
Following this, Ms. Thompson came to my table and said "I need to take you to see Mr. Nimoy." He was only two tables over and immediately stood up when she introduced me. He graciously remembered our meeting last November in Boston. I told him briefly about the 'adventure' in getting there and how I was looking forward to seeing "Secret Selves."
I had hardly returned to my seat when Ms. Thompson came back to our table and said "Mr. Nimoy wants you to meet Susan!" So, we then went to her table. She also stood and greeted me warmly. We laughed when discussing the 1960's "glamour shot" of her that I had previously given to Mr. Nimoy. We decided to do a 'sexy' pose of our own - without the results we had probably intended - ha! I told her that I had brought some additional pictures of her with me and she indicated she would love to see them. We chatted for a few minutes more, then I returned to my table.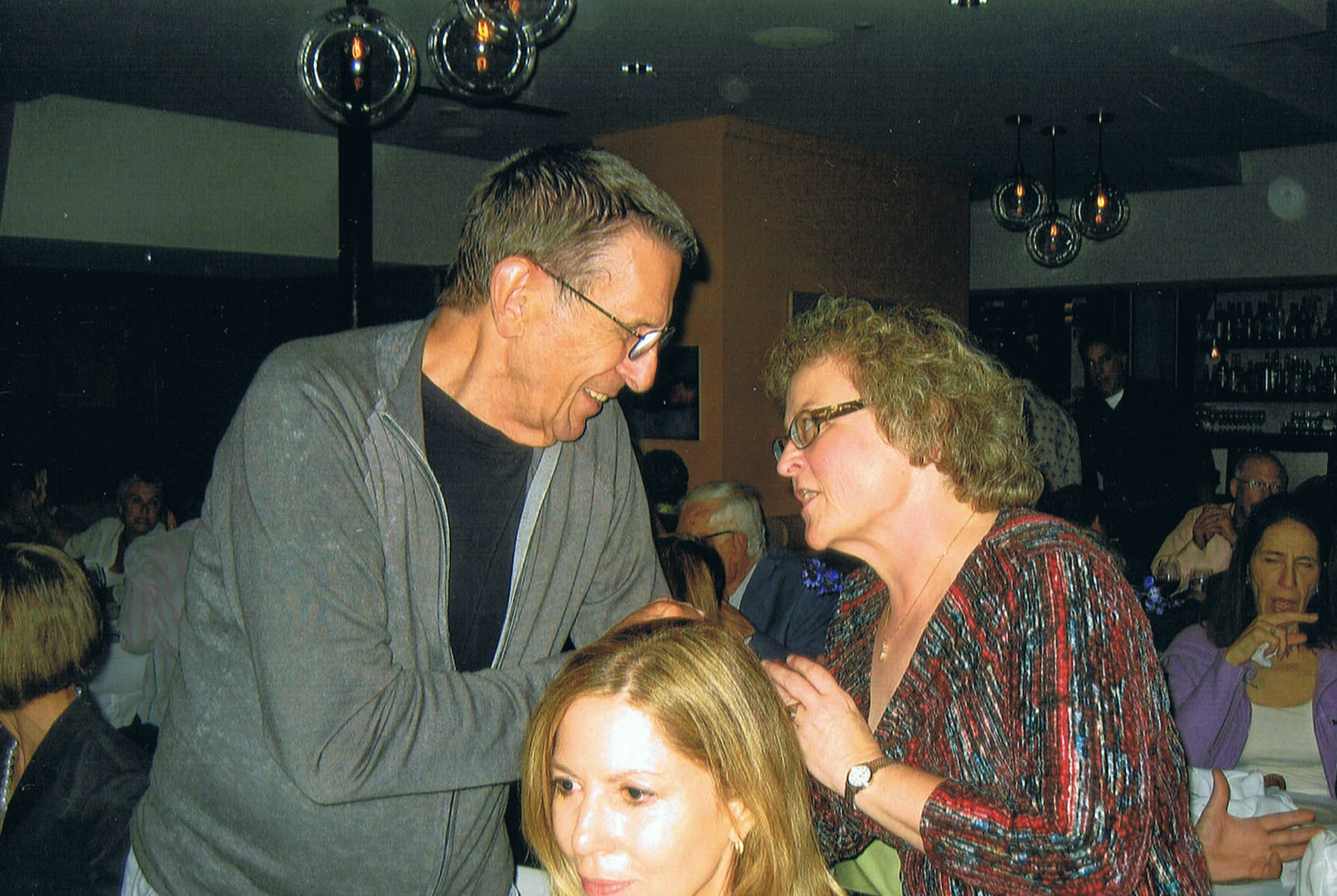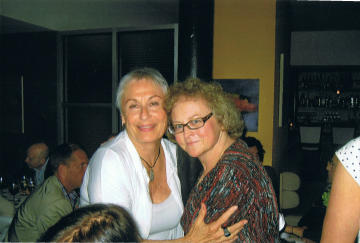 At the close of the dinner, Mrs. Nimoy rose to acknowledge how special the evening was for all of them - that it was as much about "hearth and home," as their families were there, as it was a tribute to Mr. Nimoy's work. As she sat down, a friend asked about HER 'secret self.' She laughed and said "you couldn't handle it!" It was a funny moment, with Mr. Nimoy adding "I think that's all they need to know!" Everyone laughed. It was a great conclusion to a wonderful evening.
The next day (Sat.) at 10 am was the time I was to arrive at the museum to have my portrait taken. (Only 2 individuals, including myself, were scheduled.) My friend and I arrived a little early and were told we could proceed to the room as "Mr. Nimoy is ready." It was exciting to see the backdrop, camera and monitor all set up with Mr. Nimoy smiling and welcoming us. He advised us to watch out for all of the cables, which were very much in evidence on the floor.
With Mr. Nimoy was Rich Michelson, owner of the R. Michelson Gallery in Northampthon, Mass. who worked with Mr. Nimoy on the arrangements for the "Secret Selves" project and whose gallery is hosting a major Retrospective of Mr. Nimoy's photography until Oct. 31, 2010. He, too was very cordial and he would later have the presence of mind to take my camera and snap some shots of me and Mr. Nimoy.
Mr. Nimoy asked me to talk a bit about my background and 'secret self.' I won't go into detail, but I ended up revealing that my secret self was a bride. "I get to do a wedding?! Great!" was his response. I can't describe the thrill to be 'directed' by Mr. Nimoy while he took pictures! At one point, I must have looked pensive, because he said "Bonnie, this is a happy occasion - like a Bar Mitzvah!" Of course, that made me laugh! After he took several shots, he asked me to come look at the monitor and see which ones I liked. He then said "I like what I'm getting - would you go back for a few more?" (Of course!) Finally, we looked at those shots and he asked if I was happy with them. (Again - of course!) He indicated his favorite, but added that I could choose whichever one I wanted. It would be printed and mailed to me later. Naturally, I went with his judgment.
Once we were through, I mentioned to him that Mrs. Nimoy had wanted to see some of the negatives and photos I had with me. He was also interested and, at that point, I took out a few of the albums from my collection (It was hard to decide which ones to bring on the plane - the collection began 40 years ago!) How fantastic to hear mr. Nimoy comment on the photos and his work spanning several decades. Here are just some of the comments I remember: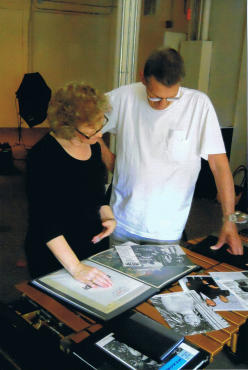 - "Oh yeah - The Balcony - Peter Falk - young...."
- "There's Susan Hampshire - lovely, lovely lady." (When I mentioned 'Baffled' should have sold as a series...) "Oh - I had an offer to do it, but I would have had to move to England. Couldn't uproot my family at that time - just couldn't do it."
- "Oh wow - that's when I was smoking."
- "Oh - there's Billy!" (Mr. Shatner!)
- "Hey - me with Ingrid Bergman. Her last film, you know - a wonderful experience." (He stares at this photo longer - I ask if he wants it) "Oh yes!"
- "Never Forget - hmmm." (I mention that my father went to college with actor Dabney Coleman, who played the attorney in this film) "He did?" Which school? He's a good actor."
- "Oh - there's Susan! What an expression!" (Again, I tell him he can have what they would like - he removes 2 8x10 pictures of Susan, 2 sheets of negatives of her and a great shot of them together.) "She'll love this..."
Mr. Nimoy again thanks me and I ask if he could autograph a few things for me. "Sure - have a pen?" I have him sign a bound copy of his VINCENT script and I tell him I saw it 8 times. "Eight times?! When?" I tell him in Washington, DC and Atlanta. He grins and shakes his head in bemusement. Next, I ask if he'd sign a recent portrait. he signs "Bonnie - Happy Wedding Day! Love Leonard Nimoy" We both laughed.
At that point, the next person to be photographed was coming in, so I gathered up my things. Mr. Nimoy held out his arms and we exchanged a good bye-hug. does life get any better than this type of experience?
Mr. Michelson and I talked for several more minutes in the hallway. He added how "generous and natural" the Nimoys were to work with.
My friend and i spent the rest of the day touring the other galleries in North Adams - we had a great time. By that afternoon, it was time to get ready for the official opening and reception (4-7 pm) for "Secret Selves" at the museum.
The reception was outside on a covered deck within the MASS MoCA compound. The weather was perfect. Wine, other drinks and hors d'oeuvres were available for guests. Beyond this area was a door that led inside to the gallery featuring "Secret Selves." We saw several people that we had met at the dinner the night before. Again, several members of the Nimoy family were in attendance. When Mr. and Mrs. Nimoy entered, they were very gracious and available. When I greeted him, I said "I'll have you know I consider this to be my wedding reception!" Again we both laughed.
Eventually, my friend and I went into the gallery. Time for another shock - both our names were on the sponsors plague at its entrance (with mine on the

top

) - I had

no

idea!
Cards that described the inspiration for and the history behind "Secret Selves" were available to visitors. Some of the photos of individuals were life size. All of them had great visual impact. A video of Mr. Nimoy interviewing his subjects played continuously in a central area. The real stories behind the photos were often funny, moving and enlightening. A marvelous exhibit!
While browsing, Mrs. Nimoy came up and thanked me profusely for the items I had given Mr. Nimoy that morning. I told her it was my pleasure.
Once back on the deck, my friend and I lingered and enjoyed ourselves. it was a honor to meet and talk to Joe Thompson, the Director of MASS MoCA. Before we left, I was excited to receive a T-shirt commemorating the event, as well as an autographed copy of Mr. Nimoy's companion book of "Secret Selves" portraits (that includes a DVD!)
It was the perfect ending to a magical weekend.
Many thanks to the Nimoys, MASS MoCA, Rich Michelson and the town of North Adams for your artistry and hospitality.