Documentary About Beth Sholom Designed By Frank Lloyd Wright (2009)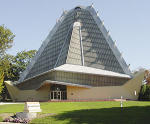 The Jewish Exponent writes: "'It's probably the only synagogue that people would know just by the name of the architect,' said historian Susan G. Solomon, author of the recent Louis I. Kahn's Jewish Architecture: Mikveh Israel and the Mid-century American Synagogue. (...)
'Frank Lloyd Wright and Rabbi Cohen clearly had this extended, remarkable conversation about what's Judaism, what's religious symbolism, what goes into a religious building,' said Cooperman. 'There was an awful lot about Jewish meaning that Frank Lloyd Wright just didn't know, because he was this Unitarian. So there was this complimentary relationship between the two, where Rabbi Cohen supplied the words and Wright supplied the visuals.'
The installation at the visitor center -- including a 20-minute documentary narrated by Leonard Nimoy -- will largely focus on the give-and-take between the religious leader and the architect. The new exhibit will feature multimedia stations where folks can delve into different facets of the shul's story. (The center will be located in one of the building's lounges, and the room will serve other purposes as well.)"
An American Synagogue - Frank Lloyd Wright, Rabbi Mortimer J. Cohen and the Making of Beth Sholom
This clip is a brief introduction to a documentary video created for Beth Sholom Synagogue's Visitor Center and the Synagogue's Preservation Foundation in order to bring awareness to the 50th anniversary of Beth Sholom, the only synagogue to be designed by Frank Lloyd Wright. The film, narrated by Leonard Nimoy and written by James Sanders, is co-directed by Alison Cornyn and James Sanders and produced by Picture Projects in Brooklyn, NY. The full 22 minute film can only be seen upon visiting the Synagogue.