Pioneers of Television (2011)
Pioneers of Television Teaser
YouTube description: In a clip from PIONEERS OF TELEVISION season two (premiering January 18, 8/7c on PBS), Leonard Nimoy reveals that "Star Trek" wasn't his first acting gig in the science fiction genre. See what outfit he donned before his famous ears. PIONEERS OF TELEVISION returns for second season for a revealing look at the inception of four of the most popular genres in television: science fiction, westerns, crime dramas and local kids' TV. Watch PIONEERS OF TELEVISION Tuesdays, January 18-February 8, 2011 on PBS.
Pioneers of Television Trailer
Pioneers of Television Episode Exerpts
"Nichelle Nichols on Working with Leonard Nimoy. Actress Nichelle Nichols describes trying to make serious co-star Leonard Nimoy (Spock) laugh during a pivotal scene in 'Star Trek'."
Nimoy describes a guest appearance he made on "Gunsmoke" just before starting 'Star Trek'
Leonard Nimoy on how actors must cope with the fast pace of TV production
Pioneers of Television - Crime Drama
In an interview with Star Trek.com writer-producer Mike Trinklein talked a bit about making the documentary.
What, in your research and conversations, were you most surprised to discover about Star Trek and Roddenberry?
Trinklein: One thing that I think was pretty cool was to see some of the people who worked with Roddenberry on Star Trek, who were the pioneers with him on it, in a way. You had Shatner and Nimoy, who were still early in their careers when they did the show. We have Shatner talking about (having been) on Howdy Doody and we see Nimoy in Zombies of the Stratosphere and see Shatner in Alexander. It's kind of cool to include those clips. I think a lot of people have heard about these things, but maybe haven't seen those clips. So, Bill and Leonard talk about those credits a little bit and then we see the clips. That's fun. The thing that surprised me the most, but it's not in the show because it was too long a story, but I found an old Gunsmoke episode that Nimoy had done, in which he played an Indian. He did this just a few weeks before Star Trek started. You look at it and you go, "That's Spock." He has the same attitude, the same emotional approach, the same kind of feel as the Spock character. And I asked Leonard, "Did this Indian character influence how you portrayed Spock?" He said, "I never thought about it, but it kind of did." He played that Indian with the same kind of "still waters run deep" feeling that he brought to Spock.
Something else that interested me, aside from learning so much about the interracial kiss and what it meant, was how Shatner and Nichols tell the story about shooting the scene – and tell it so differently. They tell it totally differently. Their memories differ. I asked Leonard about it and he didn't even want to weigh in on it because he had no memories of it. But it's funny because Bill and Nichelle were there and their versions don't have a lot in common.
(...)
It was fascinating to see Martin Landau talk about not playing Spock. How surprised were you that he agreed to sit down and discuss it?
Trinklein: I was surprised that he was so open about it and his comments about being glad that Leonard Nimoy got the part because Leonard was better suited for it. Viewers can draw whatever conclusion they want from that. But he was more than happy to talk about it.
Source: StarTrek.com
Many thanks to Grace and her favorite student, Anya, for doing the scan. For screenshots from the episode on science fiction please go to Ribbonrain's blog on tumbler or here at Live Journal.
Pioneers of Television DVD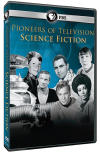 The DVD is available on the PBS website or from Amazon starting Mar. 1, 2011. It is probably recommended to get the whole set, as Mr. Nimoy is also listed to appear in the segment next on Crime Drama.
"We were like brothers," says Nimoy of his co-star Shatner. "Sibling rivalry, you know. And sometimes it was very funny, sometimes it got tense, but it was always interesting. I think it helped."
Nimoy says the balance the writers struck between the flamboyant, emotional Captain Kirk and the monotone, scientific Spock helped catapult "Star Trek" to critical acclaim.
"Bill [Shatner] brought a tremendous energy to the show," Nimoy says. "What he did was attack a scene and attack the action, and I, as Spock, kind of cocked an eyebrow and made my comment quietly."
(...)
"The show valued education, it valued teamwork, and it valued loyalty. ["Star Trek"] was forward-looking, always, just by its very nature. And I think those things appealed," says Nimoy.
More
here
.
The PBS documentary Pioneers of Television is nominated for an Emmy and producers Mike Trinklein and Steve Boettcher talk about how becoming a well known entity in the entertainment industry heped them getting the interviews they wanted.
"Networks are actually coming up to us and asking what we're working on," said Boettcher.
And such notoriety helps them get into the door when seeking interviews. When they started producing "Pioneers," they had a lot of rejections, said Trinklein.
"But now that the show is a brand and we're becoming known in Hollywood, a lot more doors are opening," he said. "For instance, this time around, Leonard Nimoy told us to come over to his house. We were sort of wandering around Leonard Nimoy's house!
"It was fascinating, and I use that word measuredly because it's his favorite word. I expected him to be polite but direct. But he was so chatty I thought he'd invite us for dinner."
More here.